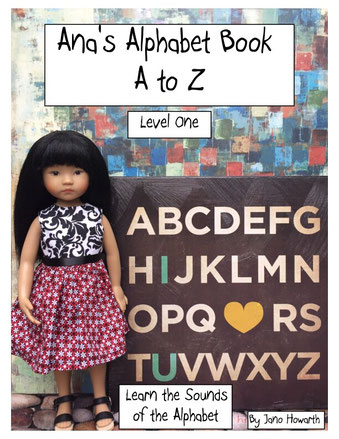 My first book, a children's educational book with doll's as characters...
This little eBook is live on Amazon this week.  Very exciting!
Here is the description....
*****************************
Learn the alphabet with Ana and her doll friends. A is for Ana, B is for Butler…Z is for Zoey.
Level One 26 letters, 26 sounds, with 26 dolls!
There are 45 Sounds in the English Language.
More or less…
English is a phonetic language, which means the simplest and most direct way to learn to read English is by learning all its sounds, and matching them to the alphabet letters.
But we only have 26 letters! So some of our sounds are represented with 2 letters…sh, th, ee, etc
And when things get complicated, a sound may be represented by 3 or even 4 letters together …igh, ough
And we all know that English gets complicated!
However, by learning the basics, before the harder stuff, learning to read English can be a breeze.
Level One- learn the first 26 sounds that match the alphabet letters
Eg A for Ana, S for Sam
Practice, Practice, Practice!
And have fun!
And Little Darling Ana is here with her friends, like Gabby, to help you do just that…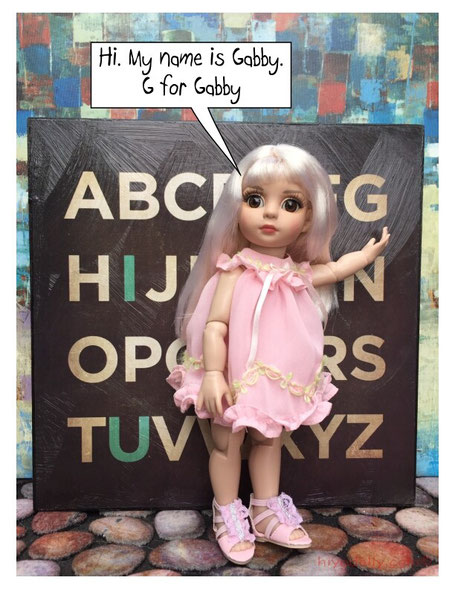 Enjoy meeting 26 dollies-males and females, from babies to Barbies, from vintage to new, from around the world- these dolls will help your child learn the names and sounds of the alphabet!
Clear and colorful photos. Alphabet chart included.
Guaranteed to be a favorite!
***************************
I am combining my interests in education, reading skills, photography and doll collecting in this little book...

Check it out on Amazon!
If you buy it and like it, write a review! Thanks!
Or send me feedback through the Contact Us page...